BirdWatch Canada is a quarterly magazine featuring articles about the conservation of Canada's wild birds and their habitats, as well as updates from Birds Canada and its regional, national, and international projects.
Subscribe today!
Your membership donation of $50 or more includes a subscription to BirdWatch Canada. Call 1-888-448-BIRD (2473) ext. 121 or email kris@birdscanada.org to join.
Advertise in BirdWatch Canada to reach an audience of more than 6500 bird enthusiasts across Canada. Consult our rates and specifications page for more information.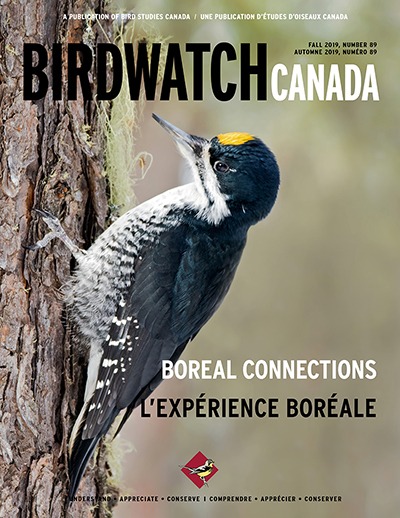 Table of Contents
On the Watch
Northern exposure: mapping birds in the Boreal
Special Report
Birds bring the Boreal south
National Reports
Project FeederWatch
Regional Report
Can the Black-backed Woodpecker keep cool under fire?
BSC News
BirdWatch Canada: then and now!
Profiles
Species in Focus: Evening Grosbeak
Volunteer Spotlight: Tammie Hache