Long Point Bird Observatory (LPBO) is the founding program of Birds Canada, which operates research, education, and training programs focused on ornithology, conservation, and other aspects of natural history at Long Point, Ontario, Canada.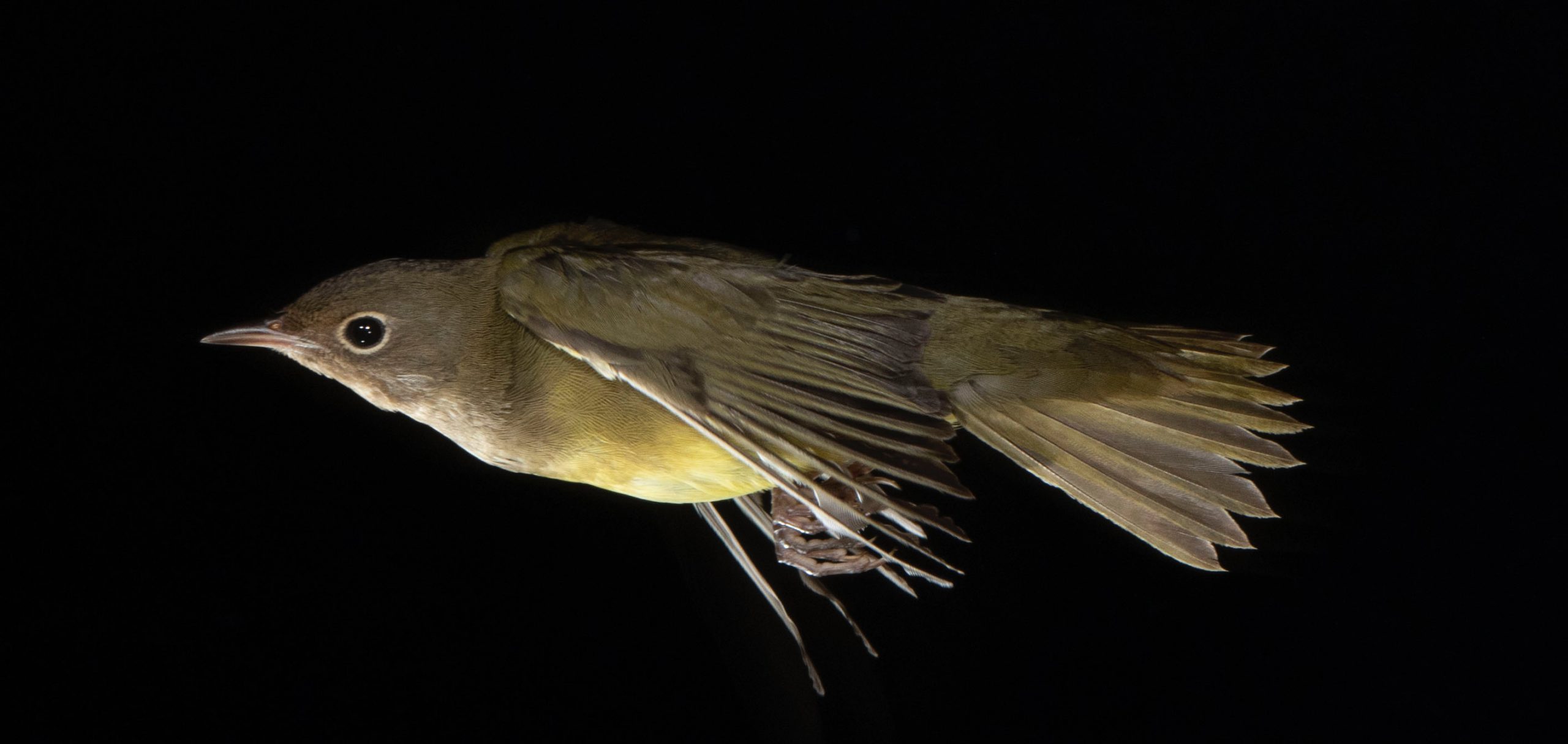 Connecticut Warbler Photo: Sherri and Brock Fenton
Founded in 1960 by the Ontario Bird Banding Association, LPBO is the oldest bird observatory in the Western Hemisphere, and a world-renowned research, education and training facility. In 2017, our 1 millionth bird was banded!
LPBO runs an active and diverse mix of bird population monitoring, collaborative research, professional training, and public education programs. LPBO projects include the Migration Monitoring Program, Young Ornithologists' Workshop and Internship, Tree Swallow Research Project, Latin American Training Program, Breeding Bird Census of Long Point.

A detailed summary of our programs, research and most recent results can be found in our annual report.
VISIT Long Point Bird Observatory
A trip to Long Point Bird Observatory is highly recommended for anyone interested in birds. Long Point, Ontario, Canada is one of the most exciting places on the continent to observe our rich birdlife. LPBO biologists and visitors have studied birds here since 1960, and over 400 bird species have been observed in the Long Point area.
LPBO's Old Cut Research Station and Visitor Centre is open to the public during spring and fall migration (from April to mid-June, and early August to mid-November). And you don't need binoculars or fancy equipment to enjoy birds here. See the birds up close during bird banding demonstrations, which run daily (weather permitting) from 9:00 a.m. until noon. Enjoy self-guided and informal guided tours of the banding lab and woodlot.
LPBO staff and volunteers will be happy to answer your questions. In the Visitor Centre you'll find displays and information, accessible washrooms, and our shop (operated by the Friends of LPBO).
Directions: From Highway 401 or Highway 3, take Highway 59 south to Long Point on the north shore of Lake Erie. Turn left (north) on Old Cut Boulevard, just two streets before Highway 59 ends at Long Point Provincial Park. LPBO is the 6th building on the right. There is a small sign on the front lawn. Please park across the road in the parking lot just beyond the station.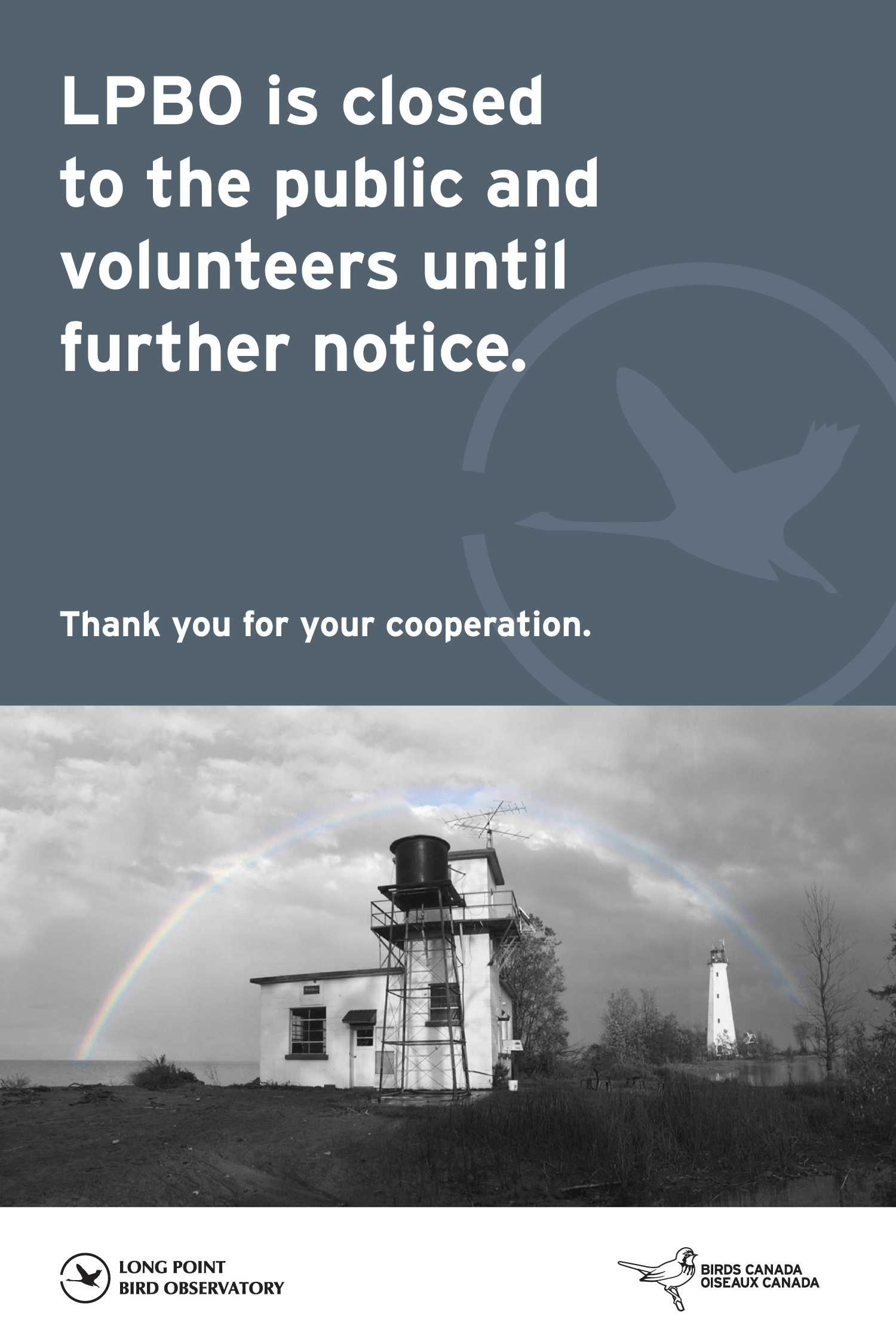 Research
Migration Monitoring
LPBO's primary activities revolve around Migration Monitoring which derives population trends, collects other demographic information, and examines other aspects of migration ecology through standardized methods of daily counts and banding at each of LPBO's three research stations: Old Cut, Breakwater, and The Tip. LPBO also has a diverse collaborative research program. LPBO relies heavily on the support of skilled cooperators from around the world who help us to maximize our impact for the conservation of birds. 
Monitoring bird populations as they migrate past Long Point is one of the most exciting and valuable programs run by LPBO. Which bird species have been increasing or decreasing over time and why? LPBO has been gathering data to answer these questions since 1960, generating a vast and unique data set. Ours is the longest running program of its kind in the Americas. 
Long Point extends 32 km into Lake Erie, attracting large numbers and concentrations of birds, insects and bats during migration. The resultant large concentrations of migratory animals allow us to count and monitor many species, as they migrate north in spring and south in fall. Counting birds on migration is particularly valuable for monitoring populations of species that breed in northern Canada, in areas that are inaccessible to more conventional monitoring methods such as the Breeding Bird Survey. Daily standardized counts, bird banding, and various collaborative research projects are conducted at each of the 3 research stations during migration.
Trends and summary statistics from LPBO and stations across Canada can be found here. This data has been part of valuable research shared in Birds Canada publications.
Interested participants should visit Training and Workshops and LPBO Volunteer Opportunities.
Collaborative Research
LPBO provides a wide range of opportunities for researchers on any aspect of natural history in the Long Point area. Every year LPBO welcomes researchers from around the world working on a variety of topics including migration and stopover ecology, behaviour, physiology, species at risk, reptiles and amphibians, insects, and climate.
LPBO maintains three research stations on Long Point. Our facilities and services include:
Accommodation for researchers
Wet and dry-laboratory space
High-speed internet (Old Cut only)
Extensive local array of Motus Wildlife Tracking System automated telemetry stations
Advanced training for students
Boat, canoe, vehicle and ATV rental
Access to any of our long-term datasets, and integration with current research and monitoring projects
Contact: Interested researchers should contact Stu Mackenzie, Director, Migration Ecology at smackenzie@birdscanada.org
VOLUNTEER OPPORTUNITIES at the Long Point Bird Observatory
LPBO offers extensive training as part of our volunteer experience. LPBO relies very heavily on volunteer assistance in one form or another to deliver our programs.
If you thrive in situations that could involve isolation, communal living, long hours, physical exertion, bugs, the heat, the cold, irregular supplies of fresh food, and rustic working conditions, then this may be the sort of experience for you. If you have a passion for birds, wild storms, pristine habitats, some of the best birding in North America, snakes, frogs, and butterflies, we'd love to hear from you.
Individuals interested in participating as long or short-term volunteers should fill out our application. Please follow the instructions, and send it to LPBO at lpbo@birdscanada.org.
Short term guests looking for accommodation should also email lpbo@birdscanada.org.
​BIRDING LONG POINT
Long Point is a birders' paradise. The 'Long Point Birding Area' in Norfolk County is one of Canada's premier birding locales with a wide variety of habitats including extensive public forests and wetlands to explore. If you're interested in birds or even think you might be, then a trip to LPBO is in order. For over 60 years, biologists and visitors at LPBO have studied the birds of the Long Point area. With over 400 species of birds observed, Long Point looms large as one of the most exciting places on the continent to observe our rich birdlife. Your best source for information about the birds and birding sites around Long Point can be found in A Birding Guide to the Long Point Area by Ron Ridout, available at the LPBO Shoppe and Birds Canada headquarters.
For more information download the Long Point Birding Trail.
Visit eBird Canada to explore local bird observations from Norfolk County and create your own checklist using the "Bar Charts" tool. Remember to contribute your own sightings to eBird Canada or by sending them to lpbo@birdscanada.org. View our Sightings Board.
PUBLIC EDUCATION and GROUP VISITS
Long Point Bird Observatory's Old Cut Research Station is open to the public during spring and fall migration.
Bookings for high school classes, universities, naturalist clubs, and special interest groups are available upon request. For a small voluntary donation ($5/person), groups are provided with a short guided tour of our on-site migration monitoring program, lasting about one hour.
Anyone planning to bring a group larger than 10 persons is strongly advised to book well in advance, especially in spring. Please note that we normally cannot accommodate groups larger than 30 people.
For more information, email lpbo@birdscanada.org