Frequently Asked Questions as to why our decisions were made, what they mean, and how we plan to react moving forward.
All Birds Canada Citizen Science surveys and field work requiring any form of travel is cancelled until further notice. Read our policy.
You, Birds, and COVID-19
Until further notice: The Long Point Bird Observatory is closed. Birds Canada Headquarters property in Port Rowan, ON is closed.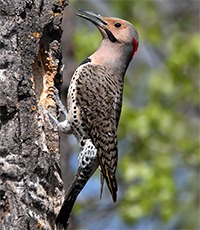 This species is known for the "dance" it performs during courtship and territorial disputes. Two birds of the same sex face off and bop their heads, often while an individual of the opposite sex watches. + "Your Bird Moment"
(Photo: Nick Saunders)
"Project FeederWatch makes birdwatching at home so interesting it's hard to tear ourselves away from the window! What a wonderful project!"
-Margaret, Toronto